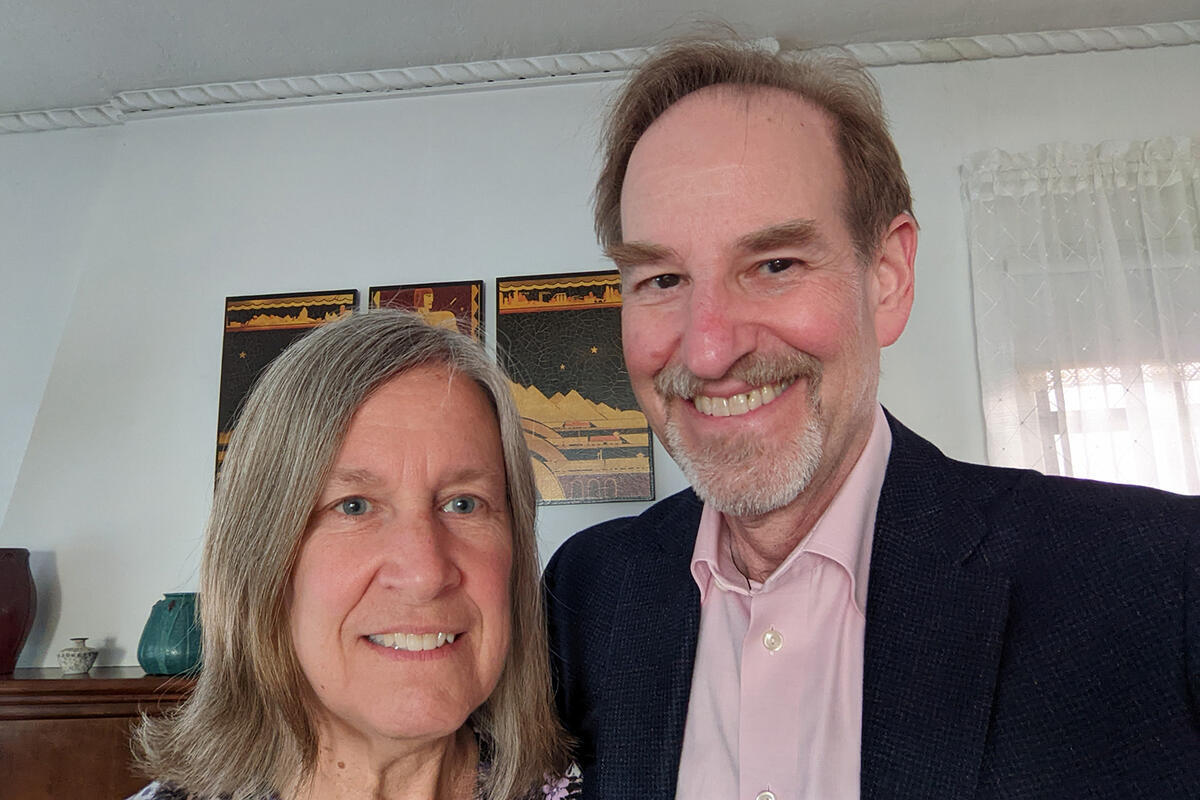 April 3, 2023
By Alexander Rony
Matt Jacobson's loyalty to UC Berkeley began at a young age.
His father, Norman, was a beloved professor who taught political theory at Berkeley for 56 years. Professors and students would drop by their house constantly. Matt recalls his father practicing his lectures on the family at the dinner table. Though there were times when Matt did not appreciate the in-house lessons, he now feels fortunate to have received a college-level experience at that age.
"I would have to say that Berkeley is my extended family," said Matt, who graduated in 1979 with a degree in geography. "I wound up not even applying to any other school."
Matt stayed in the Bay Area after college, eventually marrying Margaret, another local. The two were not closely involved with campus until Norman passed away in 2007. There was an outpouring of support, and the extended Jacobson family joined Norman's friends and colleagues to endow an award through the Townsend Center for the Humanities in honor of Norman's interdisciplinary passion for teaching.
While Norman's position resided in the Department of Political Science, he frequently incorporated the arts and humanities into his courses. Norman brought drama students into the classroom to reenact historical events. He co-taught one experimental course where students produced a film about teaching during the 1968-69 school year's upswing in campus activism. Another class examined the musical and political content of Arnold Schoenberg's opera Moses und Aron. Matt took his father's multidimensional approach to life to heart.
"Their family could not be more committed to our mission, and it's a joy to have them so personally engaged with our work," said Rebecca Egger, the associate director of the Townsend Center and of Art of Writing. "Their dedication to their father's legacy of exceptional teaching is profound and touching."
Egger said that the Jacobson Seminar is one of her favorite days of the year. Norman's family and friends join Townsend Fellows to hear from the Jacobson Fellow about their project and discuss broader issues related to teaching and learning.
Matt and Margaret's fulfilling experience with the Norman Jacobson Award led them to create the Dean's Faculty Fellowship in Appreciation of the Humanities in 2015. The endowment funds scholarly research projects that would not otherwise be in professors' budgets.
"It used to be different," Matt said. "When I was a student, the state gave us a lot more support. Now, it's almost nothing."
The first fellow was Samuel Otter, an English professor, who was able to review Herman Melville's documents in person and source artwork for Leviathan: A Journal of Melville Studies, which Otter edited at the time. Matt, who recalled his dad teaching Melville in his political theory course, marveled at the serendipitous intersections. 
"With Berkeley, it's a very small world, at least for my family and me," Matt added. "We keep running into connections everywhere."
Another one of those family connections: both Margaret and Matt have brothers who are Berkeley alums. Matt and his brother, Ken, covered Cal Athletics as sports journalists in high school and college. For a family interested in powerful writing, art, and live performances, Berkeley has a lot to offer.
"I've always loved the stage and watching people act," Margaret said. "UC Berkeley has this wonderful film series going on all the time, and they have great art collections. People that aren't involved with the university don't realize that."
Through the Townsend Center, the Jacobsons were invited in 2019 to the Art of Writing. program's annual lecture, a conversation with author Michael Lewis, that they found particularly memorable. Students in the program posed questions to Lewis they had developed in class. 
"It was such a wonderful experience," Matt said. "Margaret and I loved it. We decided that it was something that we wanted to prolong as long as we could."
Art of Writing director Ramona Naddaff and Michael Lewis in conversation at an Art of Writing event the Jacobsons attended. (Photo by Eric Kotila for Art of Writing)
Looking to solidify the program's future, the Jacobsons established the Professor Michael Rogin Art of Writing Term Endowment, named after a long-time colleague of Matt's father. The fund initially provided the seed money to launch two writing workshops — on advocacy and environmental science — and an internship program in the publishing and nonprofit sectors. Ramona Naddaff, the director of Art of Writing, plans to re-launch her program's signature lecture series in the next year.
"The Jacobsons' generosity and belief in Art of Writing has allowed us to create new and exciting writing opportunities for our undergraduate students," Naddaff said. "Thanks to the Jacobsons, we were able to think creatively and freely about how to build a stronger and more active writing community at Berkeley."
In a virtuous cycle, the programs that the Jacobsons fund also enrich their lives. "It's a lot of fun because we're getting the benefit of the education without having to take the finals," Matt said.
Once you get involved with Berkeley, one project can lead to another. You can now spot the Jacobsons' influence all over campus. Matt sits on the College of Letters & Science's advisory board and was in attendance when Queen Máxima of the Netherlands visited campus. The couple was inducted into the Builders of Berkeley last fall, adding their name to the wall of the campus's most generous philanthropists. They have supported the Library's Center for Connected Learning, the Basic Needs Center, and the UC Berkeley Symphony Orchestra.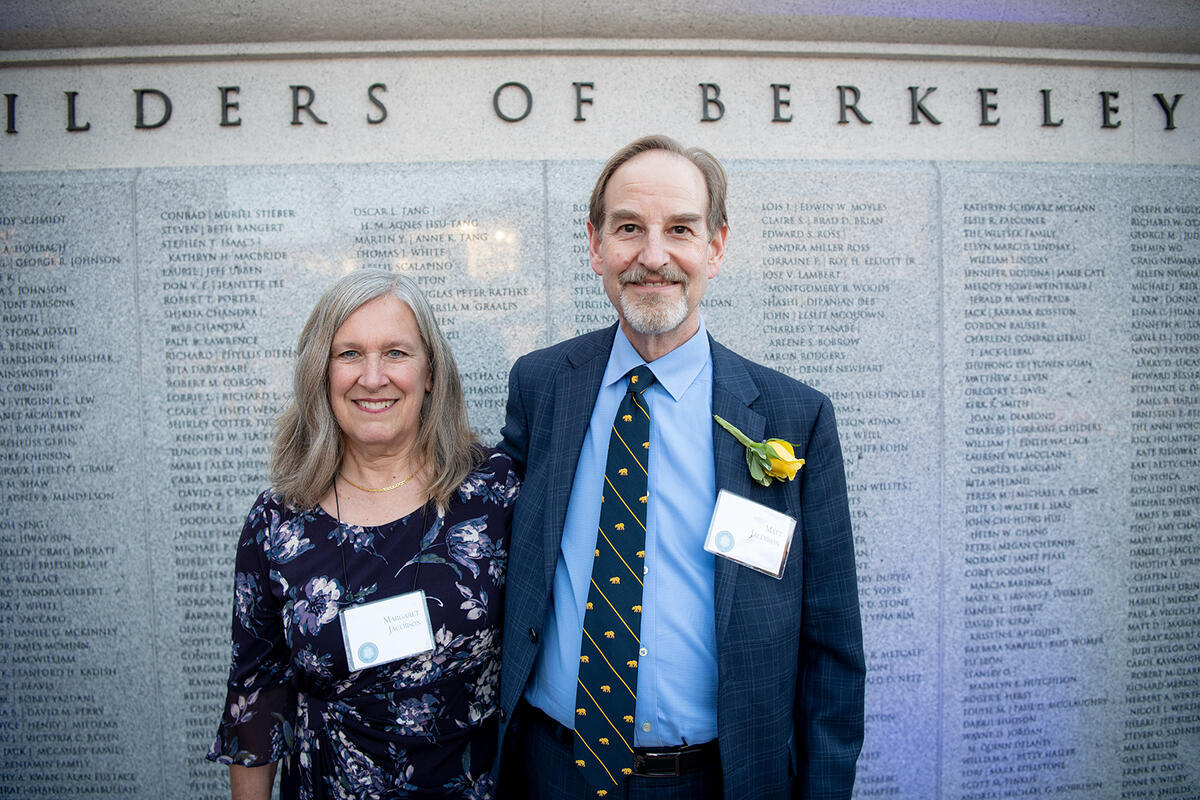 Matt and Margaret Jacobson attending the 2022 Builders of Berkeley event. (UC Berkeley photo by Keegan Houser)
Recently, Matt and Margaret helped the university preserve a treasure trove of Chinese film ephemera containing tens of thousands of movie posters, theater flyers, scripts, photographs, and other items. Copies of these materials were often discarded after limited use. Thanks to the Jacobsons and a multitude of donors and campus institutions, people will be studying the collection for decades to gain insights into Chinese cultural history.
"This is the kind of thing that Berkeley does," Matt said. "They look at things that you wouldn't think are mainstream but turn out to be enormously valuable and have a broad appeal, both in Berkeley and worldwide."
"Helping UC Berkeley is very important because it is such a wonderful institution," Margaret said. "It's incredible: the students that go there and the people that come out of UC Berkeley. I feel that any way we can help is great."
The Jacobsons hope to inspire other alums and community members to become reacquainted with Berkeley and visit campus.
"It's incredible when you go there," Margaret said. "You're talking with such a wide range of people with many different views and brilliant minds. It's very stimulating."
"If you go into a class, a presentation, a lecture, it is very powerful," Matt said. "You don't experience that, generally, wherever else you go. Once you do that, you're hooked. I always feel that in order to get more alums involved, we need to get them to campus to remember that 'Aha!' moment that changed their life, or that professor or teaching assistant or lecturer who gave them the framework of how they now see the world."
Matt sees a connection between the couple's philanthropy and his work as an investment adviser. Through patience, hard work, and steadfast principles, one can build financial and intellectual wealth. Those dividends can create wonderful results.
"One of the things that I've been fortunate to see is former students of my father who come back years later and say, 'Your father changed my life,'" Matt recounted. "It really does change lives, and society, for the better just by building one brick at a time."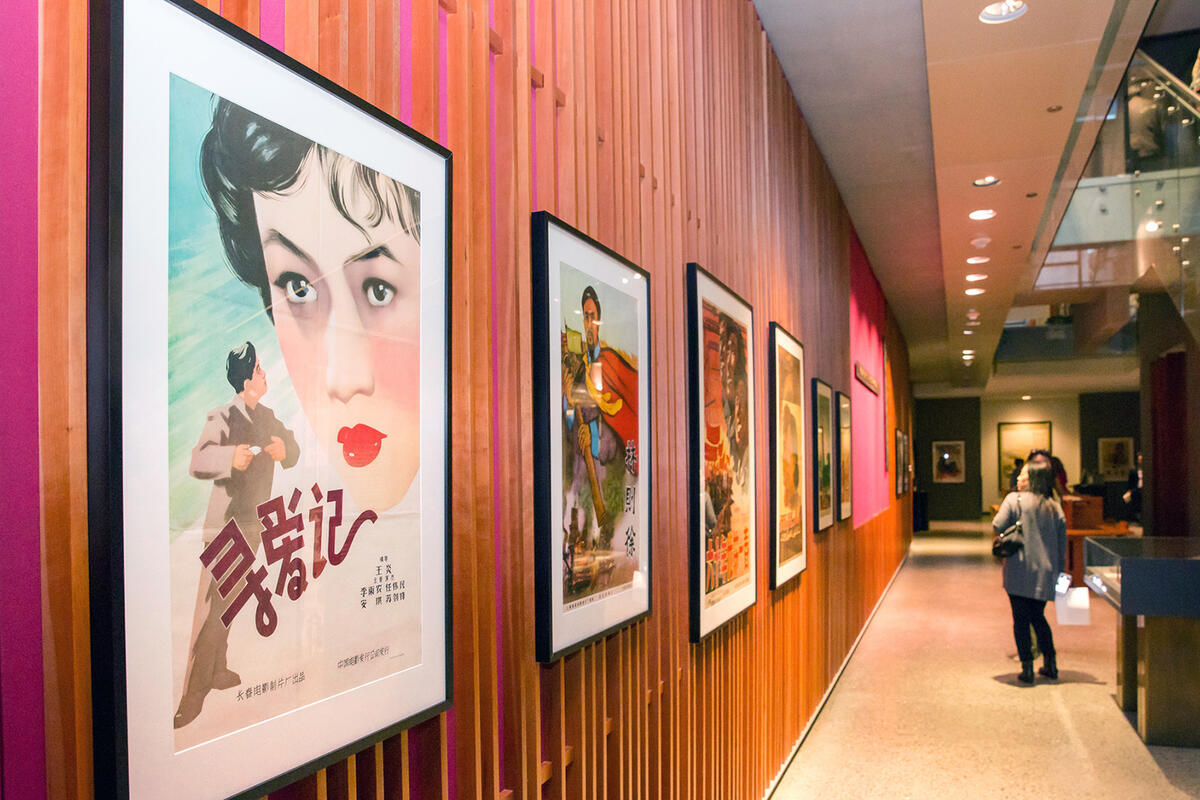 A visitor looks at items from the Paul Fonoroff collection hanging at the CV Starr East Asian Library at an event in 2017. (Photo by Brittany Hosea-Small for the UC Berkeley Library/UC Regents)